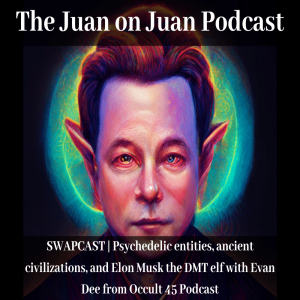 Saturday Sep 10, 2022
SWAPCAST | Psychedelic entities, ancient civilizations, and Elon Musk the DMT elf with Evan Dee from Occult 45 Podcast
In this episode, Evan and I talk discuss space, death, near death experiences, DMT, DMT entities, aliens, Elon Musk being a manifestation of some sorts, ancient civilizations, and the possibility for star gates around the world. The reptilians were listening in on us and they cut Evan off a few times during our recording when we got too close to the truth. 
Check Evan out at: https://altmediaunited.com/occult-45/
You can find my new journal, Occultis Mundi here! https://ko-fi.com/s/35d00b3488
SUPPORT THE SHOW!
PayPal: paypal.me/tjojp
Cashapp: $jayala54
PATREON.COM/THEJUANONJUANPODCAST
ROKFIN.COM/THEJUANONJUANPODCAST
TeePublic.com/user/the-juan-on-juan-podcast
Please leave us a review wherever you listen to your podcasts!
It will help the show. Also follow me on social media at:
Check out our website at www.thejuanonjuanpodcast.com
Patreon exclusive content and early access:
www.patreon.com/thejuanonjuanpodcast
Rokfin.com/thejuanonjuanpodcast
Instagram: @thejuanonjuanpodcast
YouTube: "The Juan on Juan Podcast"
TikTok: @thejuanonjuanpodcast
Telegram group: https://t.me/tjojp
Discord server: https://discord.gg/HaB6wUunsJ
Stake your Cardano with us at FIGHT POOL at fightpool.io!
Thank you for tuning in!