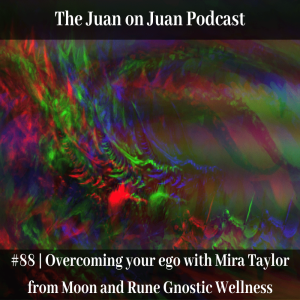 Monday Apr 25, 2022
#88 | Overcoming your ego with Mira Taylor from Moon and Rune Gnostic Wellness
On this episode, I am joined by Mira. We talk about Mira's story, mental and spiritual wellness, purpose, manipulation, doubt, the duality, synchronicities, the observer effect, the Gnostics, deja vu, simulation argument, affirmations, and the ego. I hope you enjoy! 
Check out Mira's work at: 
Website: www.moonandrune.com
IG: @nemofawn
Please leave us a review wherever you listen to your podcasts!
It will help the show. Also follow me on social media at: 
Check out our website at www.thejuanonjuanpodcast.com
Patreon exclusive content and early access: www.patreon.com/thejuanonjuanpodcast
YT: "The Juan on Juan Podcast"
TikTok: @thejuanonjuanpodcast
Telegram group: https://t.me/tjojp
Discord server: https://discord.gg/HaB6wUunsJ
Stake your Cardano with us at FIGHT POOL at fightpool.io!
Thank you for tuning in!