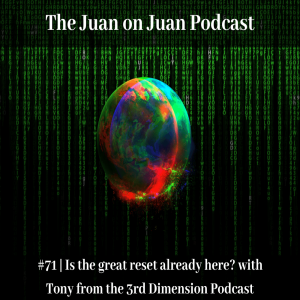 Monday Dec 27, 2021
#71 | Is the great reset already here? with Tony from the 3rd Dimension Podcast
In this episode, Tony and I talk about cryptocurrency, Jeff Bezos, H.A.A.R.P., virtual reality, Elon Musk, A.I., religion, transhumanism, Omicron, government, the ancient Egyptians, and the great reset. I hope you enjoy! 
Check Tony's work out:
Podcast: Third Dimension Podcast
Please shoot us a comment, rating, and follow us on social media!
Check out our website at www.thejuanonjuanpodcast.com
YT: "The Juan on Juan Podcast"
TIKTOK: @thejuanonjuanpodcast
Twitter: @thejuanonjuanpd
Stake your Cardano with us at FIGHT POOL at fightpool.io!
Thank you for tuning in!