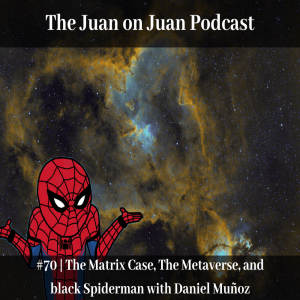 Monday Dec 20, 2021
#70 | The Matrix Case, The Metaverse, and black Spiderman with Daniel Muñoz
In this episode, Daniel and I discuss The Matrix Case, alternate realities, Kyle Rittenhouse, police brutality, the justice system, the media, Spiderman, VR, and The Metaverse. I hope you enjoy! 
Check out Daniel's work:
IG: @danielrckstr
Podcast: DudeWhatCoolPodcast
Please shoot us a comment, rating, and follow us on social media!
Check out our website at www.thejuanonjuanpodcast.com
YT: "The Juan on Juan Podcast"
TIKTOK: @thejuanonjuanpodcast
Stake your Cardano with us at FIGHT POOL at fightpool.io!
Thank you for tuning in!