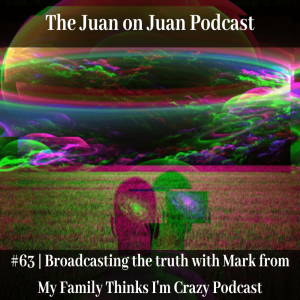 Monday Nov 01, 2021
#63 | Broadcasting the truth with Mark from My Family Thinks I'm Crazy Podcast
In this episode, Mark and I talk about humanity, books, history, podcasting, ley lines, freedom of information, Tartaria, the occult, magic, Aleister Crowley and more! 
Make sure to check out Mark's work: 
IG: @myfamilythinksimcrazy
Patreon.com/mftic
Please don't forget to shoot us a comment, rating, and follow us on social media!
Check out our website at www.thejuanonjuanpodcast.com
Twitter: @thejuanonjuanpd
TIKTOK: @thejuanonjuanpodcast
YT: "The Juan on Juan Podcast"
Stake your Cardano with us at FIGHT POOL at fightpool.io!
Thank you for tuning in!