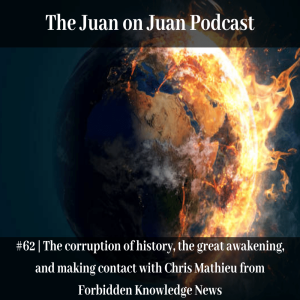 Monday Oct 25, 2021
#62 | The corruption of history, the great awakening, and making contact with Chris Mathieu from Forbidden Knowledge News
Chris Mathieu is an independent researcher, journalist, creator and host of Forbidden Knowledge News, FKN Productions, and co-host of Debunking Everything. 
He has a degree in digital media and was an editor at his local television station for 2 years.
Chris always questioned the nature of reality since childhood and always has a sense that our reality is much different than we are taught in school. In 2014, I felt compelled to share the information that I was researching and learning. 
Forbidden Knowledge News has had over 1 million viewers worldwide and is growing into a global community of the most extraordinary scientists, researchers, authors, and experiencers of our time.
In this episode, Chris and I discuss podcasting, the perversion of history, the great awakening, the idea of a collective consciousness, God, the reptilian overlords, his experience contacting an unknown entity, and more! 
Make sure to Check Chris's work out: