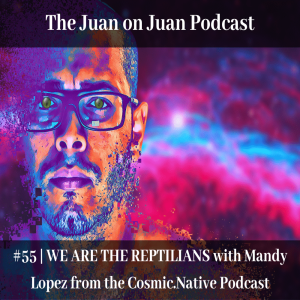 Monday Sep 06, 2021
#55 | WE ARE THE REPTILIANS with Mandy Lopez from the Cosmic.Native Podcast
Are we the reptilians?! 
In this episode, Mandy and I deep dive into holistic medicine, energy, Law of Attraction, Gnosticism, A.I., magic, the multiverse, and more! I hope you enjoy.  
Check out Mandy's work at:
IG: @theportal_ep 
IG: @cosmic.native 
Please shoot us a comment, rating, and follow us on social media!
Check out our website at www.thejuanonjuanpodcast.com
YT: "The Juan on Juan Podcast"
TIKTOK: @thejuanonjuanpodcast
Stake your Cardano with us at FIGHT POOL at fightpool.io!
Thank you for tuning in!