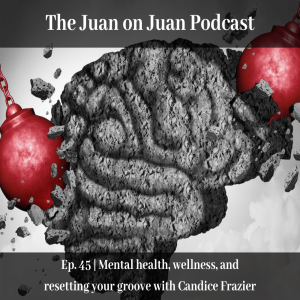 Monday Dec 07, 2020
#45 | Mental health, wellness, and resetting your groove with Candice Frazier
In this episode, we talk to Candice Frazier about mental health. We talk about her crazy story with trauma, depression, and suicide. This is something a lot of people deal with every day. She is a transformational coach. She was able to overcome these obstacles even after trying to commit suicide twice and use it for good to help others. I ask her how she was able to fight through this in her life and what helped her on this journey. Dark stuff but it is necessary… Hope you enjoy it!
Check out Candice's work at:
IG: @wellnesswithcandice
Wellnesswithcandice.coachleads.com
Check out our website at www.thejuanonjuanpodcast.com
Please shoot us a comment, rating, and follow us on social media!
IG: @thejuanonjuanpodcast
YT: The Juan on Juan Podcast
Thank you for tuning in!