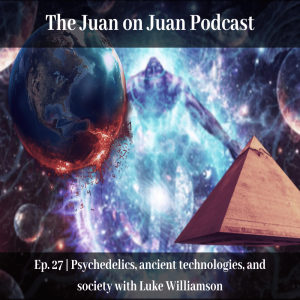 Monday Aug 03, 2020
#27 | Psychedelics, ancient technologies, and society with Luke Williamson
In this episode, we talk to Luke Williamson. We ask a lot of deep questions we probably will never get the answer to. We talk about a variety of topics. Some of them being psychedelics, society, the reptilian overlords, and one of my absolute favorite things, once again, ancient civilizations! Hope you enjoy it!
Check out Luke's work at:
IG: @enigmas_of_the_ancient_world
Also, check out his YouTube channel 'Enigmas of the Ancient World'
Check out our website at www.thejuanonjuanpodcast.com
Please shoot us a comment, rating, and follow us on social media!
Thank you for tuning in!