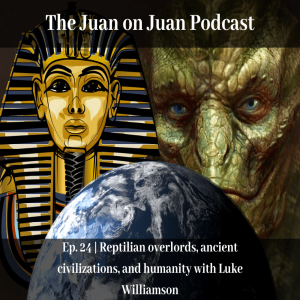 Monday Jul 13, 2020
#24 | Reptilian overlords, ancient civilizations, and humanity with Luke Williamson
In this episode, we are joined by Luke Williamson. We discuss ancient civilizations, ancient technology, unusual megalithic sites, and other enigmas about the world and in life. We talk about some of these mysterious sites and what they could have been built for and by whom. It blows my mind we still do not understand the world 100%... Oh, and we talk about the reptilian overlords who control our society… There is much to still learn! Hope you enjoy it.
Check out Luke's work at:
IG: @enigmas_of_the_ancient_world
Also, check out his YouTube channel 'Enigmas of the Ancient World'
Check out our website at www.thejuanonjuanpodcast.com
Please shoot us a comment, rating, and follow us on social media
Thank you for tuning in!