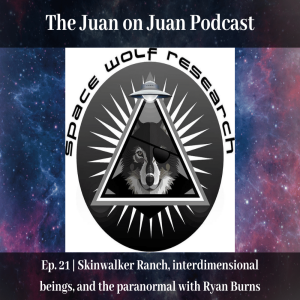 Monday Jun 22, 2020
#21 | Skinwalker Ranch, interdimensional beings, and the paranormal with Ryan Burns
In this episode, we talk to Ryan Burns. Ryan is a visionary, HEROparanormal podcast host, paranormal property collector, author of The Utah UFO Ranch, Shapeshifter Territory, and more books on the subject. We go INNN on this episode. We discuss Skinwalker Ranch, inter-dimensional beings, and the paranormal. Some of my favorite subjects! I love it. I hope you enjoy it.
Check out Ryan's work at ryanpatrickburns.com and spacewolfresearch.com
Twitter: twitter.com/HERO_Paranormal
Podcast: heroparanormal.com
Check out our website at www.thejuanonjuanpodcast.com
Please shoot us a comment, rating, and follow us on social media
Thank you for tuning in!