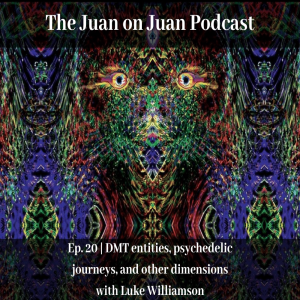 Monday Jun 15, 2020
#20 | DMT entities, psychedelic journeys, and other dimensions with Luke Williamson
In this episode, we discuss DMT entities, psychedelic journeys, and other dimensions with Luke Williamson. Luke shares his various experiences with different psychedelics around the world and what those trips were like for him. Some of his experiences genuinely caught me off guard because of how profound they were. Luke does a great job of sharing these experiences with us and tells his story very well. This is definitely one of my favorite episodes to date. Expect to see more of Luke in the near future as I love having him on the show.
Check out Luke's work at:
IG: @enigmas_of_the_ancient_world
Also, check out his YouTube channel 'Enigmas of the Ancient World'
Check out our website at www.thejuanonjuanpodcast.com
Please shoot us a comment, rating, and follow us on social media
Thank you for tuning in!