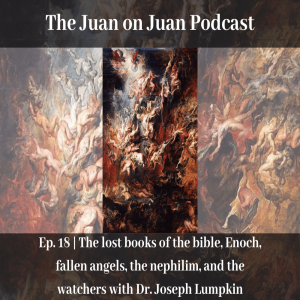 Monday Jun 01, 2020
#18 | Lost books of the bible, Enoch, fallen angels, the nephilim, and the watchers with Dr. Joseph Lumpkin
In this episode, we discuss canonical and noncanonical books of the bible, the book of Enoch, fallen angels, the nephilim, and the watchers with Dr. Joseph Lumpkin. We also dive into what is believed to be the origins of evil and the origins of angels and demons. Could all of this be linked to the Anunnaki and ancient civilizations with their depictions of demigods? We tackle that question as well!
Check out Dr. Joseph Lumpkin's work at fifthestatepub.com
You can also find all his books on his website or on Amazon
Check out our website at www.thejuanonjuanpodcast.com
Please shoot us a comment, rating, and follow us on social media!

@thejuanonjuanpodcast
Thank you for tuning in!